Tubi 60 is now KOSHER! See kosher certification here!
Tubi 60 - If you haven't heard yet, you will soon. The herbal spirit that has taken the Tel Aviv bar scene by storm has arrived stateside. Made of only the highest quality ingredients, Tubi 60 is an artisinal liquor unlike any you've ever tried. Infused with lemons, herbs, spices, flowers, and tree extracts, it transports you gently to your happy place and leaves you the next morning without a trace. Open a bottle and discover pure happiness.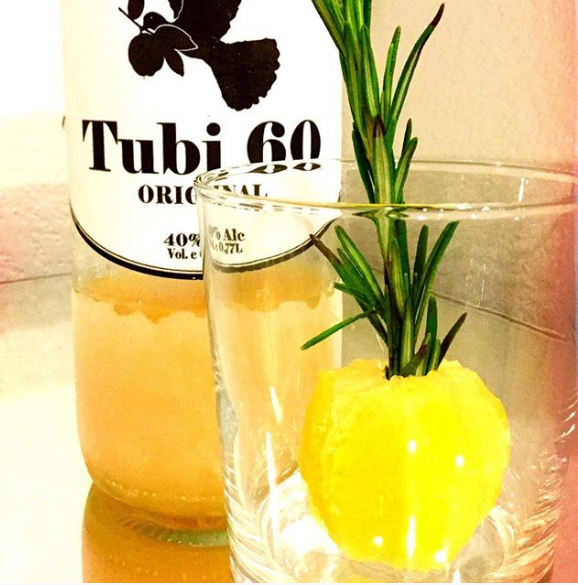 The Story
In it's short life, Tubi 60 has garnered more mysterious speculation and cult excitement than most spirits can hope to gin up in a lifetime, but the truth and impetus behind Tubi is pretty simple, two brothers wanted to drink the best thing they possibly could, hence Tubi 60 was born.
Tubi was invented and developed in Haifa, Israel in 2012 by two brothers, Hilal and Yanai. Like many start-ups before them, they started out in their parent's apartment, quickly turning it into a small distilling lab. Tubi 60 was quickly embraced by the bar scene of Jerusalem and became a cult hit right out of the gate as it spread the hot spots of Tel Aviv and onto to the rest of Israel.
Because of Tubi's unique taste and story, as well as the small production quantity, high quality ingredients, and the fact that it seemed to come from out of nowhere, Tubi has relied largely on its loyal fan base to spread awareness. As fans discovered the positive difference in the effect Tubi creates compared to traditional hard spirits, and the lessened negative after-effects of alcohol if one drinks only Tubi in an evening and doesn't mix it with other alcohols, Tubi gained a kind of mythical reputation created loyal fans not just in Israel but internationally. Fans from abroad who discovered Tubi while in Israel began to carry Tubi all over the world in their suitcases and have been spreading the word to their friends back home. Tubi has had many requests from fans to bring Tubi to their countries especially in the US, Europe, Australia, and even as far as Mexico, Nicaragua, Panama, and South Africa.
Finally, after a lot of hard work and luck it's in America! Click our Where to Buy tab to find out where you can get Tubi now!